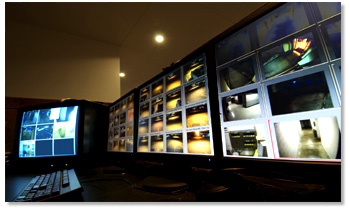 Security monitoring system belongs to the public safety management areas. With the social and economic development and high-tech advances, with burglar alarm and CCTV security system based intelligent building process is becoming an indispensable part of a strengthening of the smart building management and security of important measures. Monitoring system capable of monitoring equipment for centralized management of all kinds of various monitoring points, control each monitoring point of video data collection, transmission, storage and display, and alarm fire in accordance with the needs of individual users for each monitoring point and other monitoring content and so on. Enabling centralized monitoring of the various monitoring points out personnel quickly and effectively to protect the overall safety of the user. Therefore, the monitoring system is equipped with UPS power supply is essential to be able to guarantee their smooth, safe and uninterrupted operation.
woqiquan recommended to use the public safety industry 5000 Series and 6000 Series High Frequency UPS 6000 Series Industrial UPS.
5000 Series High Frequency UPS is a fully intelligent high frequency online UPS, which 6kVA ~ 20kVA parallel redundancy using high-frequency pure-line double-conversion architecture design, is an effective solution to the problem of the best all power architecture way. The architecture can effectively block the impact of abnormal power to the load, while ensuring the stability and reliability of the power output, so that the load safely. The use of advanced digital control technology, parallel expansion and parallel redundant functions, to provide users with the flexibility and power planning more secure protection.
6000 Series Industrial UPS uses the most advanced IGBT technology with high-frequency pulse width modulation (PWM) combine to ensure that customers can get high quality output voltage and the highest efficiency in a variety of work load. Advanced modular design to reduce the average time to repair (MTTR), the best maintenance. Using the most advanced technology of phase equilibrium, stability, and still work, even in the case of phase, and is particularly suitable for many power environment is harsher place to work. Double-conversion, online pure sine wave output, low distortion output pure sine wave power, the power to provide the best protection for the user load equipment. Output with isolation transformer, ensure that the load and utility grid full isolation.